What is ISO 14001?
ISO 14001 is the international standard for environmental management systems (EMS) and the most widely used EMS in the world.
ISO 14001 is the principal management system standard which specifies the requirements for the formulation and maintenance of an EMS. This helps to control your environmental aspects, reduce impacts and ensure legal compliance.
ISO 14001 is accompanied by ISO 14004 Environmental Management Systems – General Guidelines on principles, systems and support techniques. The standard covers issues such as the establishment, implementation, maintenance and improvement of an EMS.
 Helps you with
Environmental Policy
Impact Reduction
Pollution Prevention
Legal Compliance
Culture Change
Corporate Responsibility
Reputation
Resource Management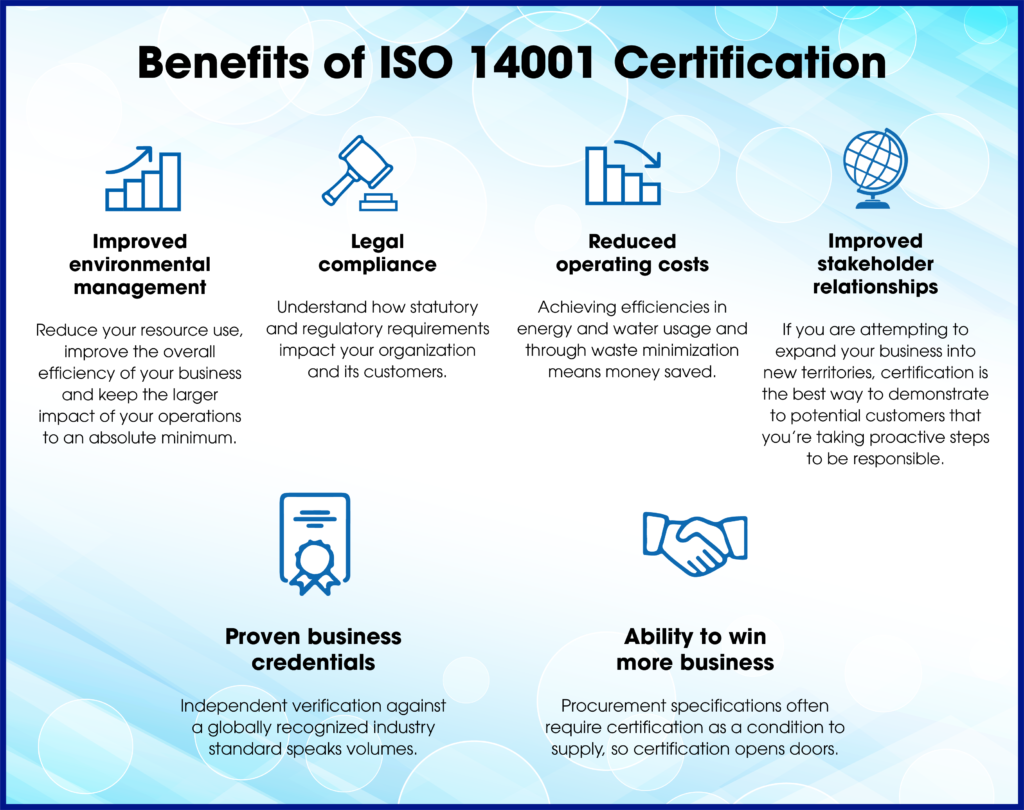 What is environmental management?
Managing your organization's impact on the environment should be a key priority for your business, regardless of the industry you're in. An environmental management system is a framework for making policy and process changes that help you improve your environmental performance. In addition to being better for the environment, achieving ISO 14001 certification can also provide you with greater control over costs and other tangible benefits.
There are many ways to go about implementing an across-the-board environmental management policy, but the best way is to become certified to ISO 14001. ISO 14001 certification provides you with immediate credentials that you can use to grow your business in an environmental and economically sustainable manner.
Why implement ISO 14001?
It's right if you and your organization want to demonstrate your commitment to reducing the environmental impact of your activities and achieve the associated financial and stakeholder benefits.
Nearly any business can benefit from achieving certification to ISO 14001 standards. The certification is broad enough to offer significant benefits to organizations in any industry or sector, while still providing a specific framework for implementing relevant sustainable practices.
Changing industry landscape and stakeholder needs 
The industry landscape is always changing. The introduction of the newest ISO 14001 revision in 2015 brings important changes that will have a lasting effect on the compliance requirements of businesses of all sizes and industries. These changes have impacts to your stakeholder needs and require the evolution of your management system. Considerations include Changing Regulatory Needs, Evolving Stakeholder Requirements and Legal Compliance.
How can AQS Global help?
With a wealth of experience providing accredited management systems certifications, AQS is ideally placed to partner with you to meet stakeholder requirements and exceed industry expectations.
AQS is highly involved in a wide variety of industry committees and standards writing teams, helping us to maintain a keen awareness of changes within the industry. We are committed to ensuring customer awareness regarding changes in industry strategy, regulations, and standard requirements that may impact your management system approach.